Open navigation
Black PR Wire Power Profiler on Maya Penn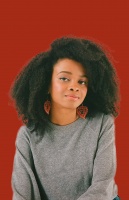 Maya Penn is a 21-year-old phenom, award-winning founder and CEO of eco-fashion brand Maya's Ideas, keynote speaker, sustainability consultant, 3-time TED Speaker, artist, global activist, animator, filmmaker, social entrepreneur, coder and Simon & Schuster author.
Maya received a commendation from former President Barack Obama for outstanding achievement in environmental stewardship. Maya was awarded the 2016 Coretta Scott King A.N.G.E.L. Award, as well as honored at the SCLC Drum Major for Justice Awards (past honorees include Rosa Parks, Maya Angelou, John Lewis and more). She has been hand chosen by Oprah Winfrey as her youngest Supersoul 100 entrepreneur, change maker, and thought leader. She has been one of the youngest leaders in sustainability and environmental justice for 12 years, starting at the age of just 8 years old.
Maya was featured in Forbes magazine at 10 years old, and has since been featured in Huffington Post, Business Insider, Entrepreneur Magazine, NPR, ESSENCE, The View, CNN, TIME, CBS This Morning with Gayle King, O Magazine, Ebony, The Steve Harvey Show, VICE, Wired, Adobe, and many more. In 2016 during the Obama Administration, Maya made history when she was commissioned to produce and animate the opening of the first ever digital report presented to Congress.